I have seen Dr. Michael Wesch's TEDx talk "What Baby George Taught Me About Learning" before, many times, actually. The first was in the Fall of 2017 when I was taking Contemporary Pedagogy–and then over the next academic year (2018-19) when I was first a TA for this course. I really like (love?) this bit because it is timeless: human beings are wired for learning. Learning is what we do. Early on (about 2:41), he makes the point about faculty saying things like "well, some people just aren't cut out for school" and the exercise of replacing the word school in that sentence with learning and the resulting statement being absurd! I agree.
Meet Students Where They Are
Wesch's talk gets me excited about being teacher—-because the root of what he is describing is a pedagogy and praxis of meeting students where they are. When that happens, students thrive.
Wesch describes how he took the time to connect with his students. This gave him a unique lens and he was able to see his students as people. He describes skipping the small stuff, and diving right into deep discussions and questions. And when he did he saw them as individuals, who each was struggling with their own obstacles, barriers, fears, and problems that inhibited their learning. He also saw them for their gifts, talents, passions, boundless creativity, and potential. Because he did this, he was able to think differently about his role as the teacher. He moved from the A-F grading system to a "not yet, keep going" system and everything changed.
He found a way to create a spark. Because he saw his students and his job differently, he was able to help them overcome the confounding variables. He enabled them to engage in the learning process, to tap into their strengths, and ignited their thirst for knowledge and personal growth. What more could any teacher hope for?
Wesch talks about learners being motivated to learn by something that is "worth it." As an educator, I am motivated to teach by igniting the spark in my students. Nothing about my work gives me greater satisfaction than when I see my students are getting excited about learning. I love seeing them make their own connections and figuring shit out on their terms, for themselves. I know my attempt to recall a quote1 is going to be way off, but I think the idea is worth mentioning: "we can't promise to teach them everything, but we can teach them how to learn anything." If we can teach students how to be active participants in their learning, then they can learn anything. I don't see myself as an expert whose role it is to grandstand and deposit knowledge into my student's heads. That's bananas. Learning doesn't work that way. Contrary, I understand my role as a facilitator and co-learner in the course, offering resources to explore, cultivating curiosity and providing opportunities to have dialogue as a learning community.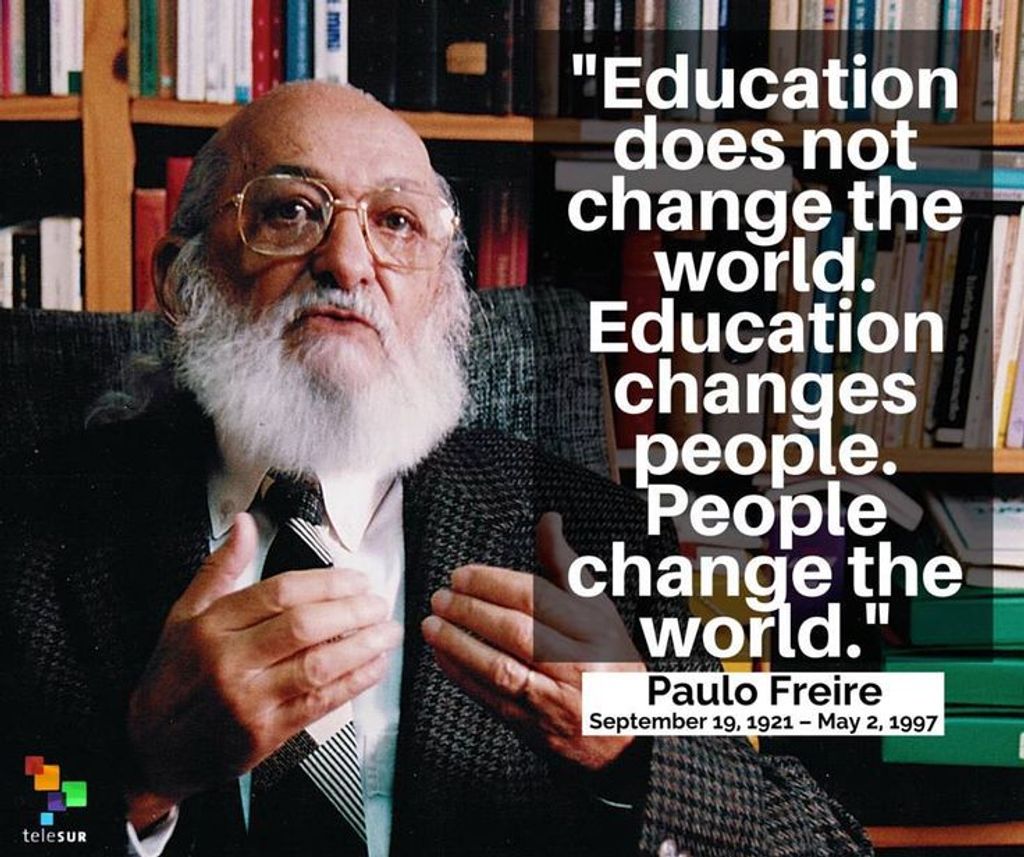 I want my students to exceed my wildest dreams for creating a future that is better than our present. Wesch talks about how transformative education can be when it is truly about learning (and not high marks). Neither our value nor our student's value is defined by grades. Just because learners struggle sometimes doesn't mean they aren't cut out for learning. Sometimes different topics take longer than others; sometimes there are things going on that mean we are not going to be masters after our first attempts. Sometimes, we fail before we succeed, and that's all ok. This is why I love Wesch's "not yet + feedback" approach. Because he's right: a motivated learner is always going to get it. On the other hand, there are still HUGE problems in our education system–including higher education. The quickest way to change a broken system of learning is for individual faculty members to take a step back and do what Wesch is suggesting: ask themselves what can be done/what they can do to facilitate and enhance students' learning. If students aren't successful, we must ask ourselves what is our part in that failure to connect and what can we change to be better educators for the students we have? This is similar to a philosophy I was first introduced to in 2002 when I read John C. Maxwell's "Failing Forward: Turning Mistakes Into Stepping Stones For Success." Maxwell's take is more focused on goals, attitudes, and perception, but I think it meshes nicely with Wesch's method of saying "not yet," the providing helpful feedback and an opportunity to try again. It also speaks to this constant learning and evaluation of our pedagogy: if we are failing, what can we do better to meet our student's needs?
Networked Learning
One of the readings for this week was Garner Campbell's "Networked Learning as Experiential Learning" where he discusses George Kuh's 2008 monograph on influential practices in higher education. This was my first reading of this piece and prior to reading it. I had never heard of Kuh before so I appreciated the primer on their work. I have heard of experiential learning and enjoyed the argument Campbell made in support of students engaging in learning over a network connected to the internet where and he offers some ideas about the evolution of networked learning as experiential learning in higher education.
Campbell notes key characteristics in Kuh's version, that experiential learning is:
"study abroad, internships, service learning, and community engagement. Depending on the institution, undergraduate research may also be included in the category of experiential learning. The common denominator is a real-world context that provides deeply integrative opportunities for classroom-based learning to be applied to complex and complexly situated problems or opportunities.

Yet one crucial item does not appear on Kuh's list: networked learning by means of the Internet, particularly the World Wide Web."

Gardner Campbell discussing George Kuh pedagogy in Networked learning as Experiential Learning (2016). Emphasis is the authors.
Campbell goes on to argue that
"the experience of building and participating within a digitally mediated network of discovery is itself a form of experiential learning, indeed a kind of metaexperiential learning that vividly and concretely teaches the experience of networks themselves."

Gardner Campbell discussing networked learning in Networked learning as Experiential Learning (2016).
I am on board with networked learning. I am all for blending experiential learning with the internet and software that connects learners in a virtual third space— which is a place that is neither home nor work; a place where folks have traditionally gone to hang out and socialize physically, but with networked learning, third spaces are places like this course's motherblog, the Canvas site, and our Zoom calls on alternating weeks.
I think that in the context of a pandemic (hello COVID-19!) networked learning is important as ever. What's changed is that so many of our students, faculty, and staff are no longer physically present on campus (for how long?). Students were already potentially globally dispersed, and now they really are. One of the things I think we should be thinking about now is how to reach our students knowing that inequities still exist in education. One example is how formerly, a centralized campus, which created somewhat of a level playing field in terms of access and resources, is no longer part of the educational experience for many learners. This is becoming such an issue that posts about it are going viral on Twitter. I've also been following the debate over whether it is ethical for instructors to require their students use webcam, hearing arguments from op-ed pieces online and cousins of mine who are teaching in different districts across the country, with diverse policies depending on the age group of the students and level of education.
So with Campbell's words fresh in my mind, I think about all that I have read and absorbed since March of this year when the great pivot to online learning went down. I've come to the conclusion that now, more than ever, educators have an obligation to course design and contemporary pedagogy so they can create high quality learning environments that offer students:
multiple, different ways to engage with the course and with their peers;
substantial effort on the part of the teaching team to make sure that content is accessible to screen readers, that captions are available on videos, etc.
new ways of assessing learning that are neither biased nor impacted by the quality of one's internet connection
flexibility, so that students can absorb the material in their own time
a sense of community and "classroom" culture in a virtual space
a positive and compassionate learning experience
This list is by no means comprehensive or complete. It is just the beginning of me gathering my thoughts on networked learning in 2020. Really, it's me just thinking out loud about what it means to meet students where they are right now. I think it's important for us all to reflect on what we can do so we can ensure that students thrive3, even when the world feels like it is upside down.
Alt-text and attribution for images above. Clockwise from left: 1. Photo of four people wearing masks, a Mona Lisa wearing a mask hangs on the wall in the background, by cottonbro; 2. Photo of packed and lively house party, by Maurício Mascaro; 3. Photo of people at a protest, holding signs and cameras, by Amine M'Siouri; 4. Photo of a group of women having a productive meeting in a modern conference room, by Christina Morillo; 5. Photo of a very young student engages with her teacher on a laptop by August de Richelieu; 6. Photo of social distancing and mask-wearing signage by Ekaterina Belinskaya; all from Pexels.
Footnotes:
Since COVID, I have lost my "permanent" office in the PhD suite in my program and set up a work space at home. In doing so, I have temporarily lost a ton of quotes about learning that inspire me. If you are familiar with this quote and know the source, please share it in the comments and I will edit the post to give credit where it is due. When I find the original quote, I will edit the post and give full attribution.
I was in the 11th grade the first time I failed a course. It was Latin II at the Mississippi School for Mathematics and Science and after the Fall semester was over, I had something like a 69 (my lowest average ever) and the course was half over. I was devastated. My mother sent me a copy of "Failing Forward: Turning Mistakes into Stepping Stones For Success" by John C. Maxwell . John C. Maxwell's (2000) book, "Failing Forward" helped me go from fearing failure to chasing learning and personal growth. I had been afraid to fail and was devastated when I did. When I was able to take responsibility for my behaviors and change my goals (re: from getting a good grade to learning), I could see where I made mistakes. I learned from them. The result was that I was more successful in school and I started to see that my education wasn't about the grades. I did an about face in the class and ended up in good shape by the end.
Ok now after all of that it'll be time to really dig deep and figure out what kind of self-care regimen balances the extra demands of this new landscape of learning. We want to be there for our students, of course, but we all know the challenges of working (teaching!) from home. I will try and take time to explore that in part two.